TESTIMONIALS
A selection of testimonials from a variety of events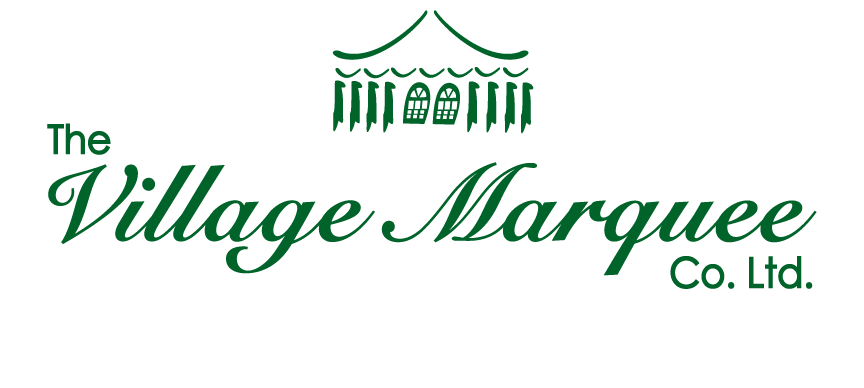 We have used Village Marquees on several occasions, the most recent was for our daughter's wedding in July 2018, with 130 guests. Chrissy is very helpful and efficient. Her advice turned out to be spot on. It all worked very well, Ed and the team of erecters worked very cheerfully and soon had the marquee in place a few days before the event. Nothing was too much trouble, Ed took great care to make sure everything was in its proper place, stage, dance floor, catering tent, lighting, toilets, generator. We even had a spare generator key and a phone number in case of emergencies. My daughter chose wooden table and chairs and we decorated the marquee with climbing plants and foliage. A small tree was growing in the middle of the marquee which looked very pretty when festooned with lights. The team came back as planned to take the marquee down and it was whisked away quickly and efficiently.
I thoroughly recommend Village Marquees for any summer outdoor event, but book well in advance!
Hi Chrissy,
Paul and I just wanted to say a massive 'thank you' to yourself and the rest of the team that made our wedding day incredible. The team were amazing, so helpful and informative as well. Obviously we had you on recommendation from Emma Brown, and we couldn't have been happier. I only wish we had another celebration coming up so we could do it all again!
Thank you so much for all your help right from the initial stages through to the big day. We felt completely at ease liaising from a distance and knew we had such a strong team looking after us. 
All the best, fondest regards
Dear Chrissy
We had a marvellous celebration on Saturday, for which the marquee was just perfect.  The lining was much admired!  Everything you supplied was great and we are so grateful for all your help and that of your 'boys', who were most efficient. We will certainly recommend Village Marquees to anyone who asks our advice about a marquee.
Just a quick note to say thank you so much for today. The marquee worked brilliantly, especially with no wind and rain! Very pleasant. You gave me every confidence in your service, so thank you for the worry free experience, it was much appreciated.
Hi Chrissy, We just wanted to send a quick thank you for all the work for our wedding. The marquee looked amazing and many guests commented on how great it looked and was a perfect 'English countryside' wedding!
Dear Chrissy and team,
What can I say, we are a very lucky couple to have been able to deliver such a fantastic wedding day and event to our guests.  Something we couldn't have achieved without such a fantastic delivery of the marquee and infrastructure that Village provided.   The planning process was simple with every question answered.  It might be easy for us to say  but The wedding has been critiqued as "The Wedding of the Year" and "The best wedding of all time!"  The day was picture perfect and without hitch and our marquee venue matched our expectations in every way.
I'm so appreciative of your support with a slightly unusual set up and your help to dig us out of a fair few holes (quite literally!) Ed and the team where relentless with attention to detail and understanding of my not always so straightforward thought process! He's a great guy and a credit to you guys. Please thank him from me.
I will be sending a card from us with some pics of the day but wanted to send you a short note of our appreciation.
Hi Chrissy
Thank you so much for supplying the marquee for our Golden Wedding party.
The "putting up" and" taking down" team were friendly and very professional.   Please thank then  all.
I would like to thank you Chrissy for your "can do" attitude.  I would never have thought of putting the marquee immediately in front of the house, but it worked so well.   This was remarked upon by several people. I shall recommend The Village Marquee Company in the future.
The two big marquees were great this year – worked very well bringing everyone together under one roof so to speak. Will definitely go for same next year.
Thanks for your help – will be in touch next Feb-March to confirm date.
I am writing to thank you on behalf of all the staff at St Wilfrid's Hospice for your generosity in donating the marquee and equipment for our lunch at the Saffrons event . You have been incredibly kind in donating this to the Hospice and we thank you so much for making our event possible.
Thank you so much for everything – the marquee looked fabulous and Ed did a fantastic job and never made me feel I was being a nuisance so a big thank you to him from us.  Everything went very smoothly and all your kit was great – thank you so.
Just a quick note to say thank you so much for today. The marquee worked brilliantly, especially with no wind and rain! Very pleasant. You gave me every confidence in your service, so thank you for the worry free experience, it was much appreciated.
Please accept my heartfelt thanks for all your help and support with the Centenary Celebrations. It has been a wonderful time for the school and one we hope the children and wider community will remember for years to come. We could not of done it without you. Thank you so much,we really do appreciate it
I would like to take this time to thank you and your team – they were great on the day and your assistance throughout has been really appreciated.
"We have worked with Village Marquees for a number of years. They consistently provide marquees of a very high standard and nothing is too much trouble for the team there. The pricing is extremely competitive and we look forward to using them again in the future."
Chrissy it was just wonderful! The marquee looked amazing, the chairs and cloths, everyone was thrilled.  Accept a big cyber pat on the back, again, for coming up trumps! Thank you so much.  I will send you photos when we get them.
We were delighted with the excellent and attentive service we received from Village Marquees. The standard of marquee and luxury toilets was superb. They understood the importance of our events and helped us to consider all the extras which help to make a really special day.
Village Marquees came highly recommended by a friend who had been using their service for years.  From the outset I was so impressed I did not bother to check out alternatives. Everyone in the VM team, from Chrissy in the office to the delivery crew, was helpful, efficient and professional, without losing that all important personal touch.
As a customer, I felt I really mattered. Party guests remarked on the excellent marquee, decorations and dance floor. It played a major role in making my party a tremendous success, and I can recommend Village Marquees with no reservations.
Thank you Chrissy for such a kind email.
We were so pleased that you were able to event manage for us, as it took a huge weight off our minds.  Your experience and careful planning beforehand, enabled us to have a stress free run up to the big day and together with Vikki you made a great team on the day itself, expertly guiding both staff and guests.  I'm glad you found it enjoyable, though you must have been pretty tired.  I'm also glad that you felt able to work alongside Erika and her staff and that you were impressed with the spread she provided.
Thank you again for everything you did for us.
Hi Chrissy,
Many thanks for all your help with our marquee.  All went well & with the weather conditions we were very pleased to have it there!!
Excellent service – thank you.
Hi Chrissy 
Thank you so much for pulling together the event on Saturday, From organising the marquee so smoothly to organising the waiting staff, you enabled us to relax and enjoy the day, without worrying whether guests were being looked after. 
We've had many compliments about the marquee and the staff on the day and we were so happy that everything ran smoothly.
Dear Village Marquees, just a quick note of thanks for supplying your lovely marquee and putting – up and taking down so efficiently. The whole thing went so smoothly and we are very grateful for that.We will certainly recommend your business to friends. Many thanks.
Just wanted to say thank you for the excellent service provided to us on two occasions this summer. Everything was 100% on both occasions. I must also comment on how nice all the chaps are who have come to erect and dismantle the marquees. We have no immediate plans for another event but will no doubt be in contact with you at sometime in the future.
I would like to say a big thank you to Ed and your team for the supply and erection of the marquee on the green. The committee were all very impressed with the professionalism of Village Marquees, both the Marquee itself and your workforce were a credit to the company. They followed the plan exactly.
I have been meaning to write all week to say thank you so much to you and all the boys for helping us out so much last weekend. We are truly grateful for the time and effort that you all put in to ensuring everything was ok for us, and we had a fabulous time. Please pass on my heartfelt thanks to Mark and Ed particularly.
Rupert and I both owe you all one of the biggest thank you of our lives. Without all your efforts on the 5th October 2012 we would have been left with 150 guests with nowhere to go! With only 5 hours notice (is this a new record from site visit to completion?) The marquee really made the best of our location and turned out better than we could of hoped… even better than the original plan. Again thank you for saving our special day.
Village Marquees
Blackbarn Farm, Lower Dicker, Nr Hailsham,
East Sussex, BN27 4BZ